The first WEB-site
in Sweden for
Bichon Bolognese!

The sole purpose of this website is to provide information about the Bolognese.
We have tried to create a simple and functional website that will load in the least amount of time possible.

Our Photo Galleries may take a short while to load,
but we are certain you will think it's worth the wait!



---
| | |
| --- | --- |
| Puzinuz Amore Cosimo | Cosimo I de' Medici |
THE HISTORY OF THE BOLOGNESE
Its origin is often confused with that of the Maltese since its distant ancestors are the same little dogs mentioned in Latin by Aristotle (384-322 BC) under the name "canis elitensis".
Already known in the Roman era, the Bolognese appeared among the appreciated gifts which were presented during a the era by the powerful of that world.
Cosimo de Medici (1389-1464) brought no less than eight Bolognese to Brussels as gifts to as many Belgium noblemen. Philipe II, King of Spain from 1556 to 1598, after having received two as a gift from the Duke d'Este, thanked the donor by writing "these two little dogs are the most royal gifts one can make to an emperor".
A Bolognese is represented in the painting "le Vieux and Goya" by Pierre Breughel and other paintings by Titian. Many Bolognese of this time period were also white and black and white and gold in color.

The Bolognese belongs to the Bichon group originating from those small white dogs called "Melitensis" by Aristotle which became widespread in the Mediterranean countries. It was used on ships to kill vermin and gave origin to the Maltese dog and the other Bichons.
In Italy, as far back as the Roman times, they were considered precious. During the Renaissance the nobility used them as gifts, and in this way they reached the court of Catherine II of Russia. This small "ladies dog" never became popular in the way of numbers, and even today's population has remained rather small.
It has the typical character of other Bichon breeds, as it desires close contact with the human family into which it integrates completely.
The Bolognese is vivacious, extremely intelligent, trainable, and playful, yet discreet and not intrusive.
---
-- First Bolognese in Sweden --

Pernilla Glumstrand of Kennel Voilą was the first to import a Bolognese into Sweden in 1988. This was a Danish female named Jabir's Bo-Blanc Aekviva.
Ms. Glumstrand followed this importation with another from France in 1991, a female named Elsa de Kalfrety.
Elsa was later bred to the German male, Fabrice V Weiben Kindertraum, producing the successful male, Voilą Amore Mio, whose daughter, Voilą Bella Bimba, and granddaughter, Voilą Cara Mia, can be seen here in our Photo Gallery.
---

Kristine K. Steffeck, Kennel Assisi Bolognese, Wausau, Wisconsin, U.S.A.:

I have been asked many, many times to describe the Bolognese.
I believe the following response gives people a little more insight of what living with a Bolognese as part of the family is like.
There is an intelligence and understanding I see in my Bolognese not possessed by any other breed. They know and anticipate before you even say anything, almost telepathically.
They are extremely smart and if you don't think your Bolognese is, then it's much more intelligent than you think. They are true companions and thrive on your attention.
They are agile and light on their feet. They are happy-go-lucky walkers. They are show-offs and know it and love it. They are rough and tumble with each other and children. They make up their own little impish games and delight in outsmarting you. They keep a watchful eye out for intruders. When they exhibit caution toward an individual, take heed, for they sense something you do not.
Their intelligence is obvious by their ability to learn quickly. Their dense long locks of fur form the beautiful white soft coat that you love to bury your face in.
They are devoted and love their whole family. They love getting kisses as much as giving them. They must always know what you are doing and be part of it.
One of their main goals in life is to charm their way into the hearts of everyone they meet, and they usually succeed . . .

". . . This is the Bolognese. Kristine K. Steffeck"
---
Anja van Haarlem, Kennel A Maiden Effort, Holland:
The Bolognese is a small dog belonging to the Bichon family. He is intelligent, happy, faithfull and companionable.
His white coat is long, light, curly, soft, tufty, yet with no undercoat. The weight is five to nine pounds, and the height ranges ten to twelve inches.
While not being hyperactive or high strung the breed is vivacious and full of fun. They are quite fearless and love people.
Bred as companions, Bolognese need attention and the presence of their family. In fact, they are like a shadow, following their idols from room to room.

"To have a Bolognese in the house is to have someone to love and adore"
---
The following mail was sent to us a while ago:




Subject: A true Bolognese love story:

We were told about 7 years ago that a dog breeder was set to DESTROY a
litter of Bolognese puppies because they were NOT PERFECT !!!!
	My wife and a workmate each adopted one. Our beautiful "MAGGIE"
(or MAJI ~ the gift) had brown eye stains from clogged tear ducts.  This
wonderful dog, which I had never heard of was a wonder to share our affection
with.  She can run like the wind... and looks out the window, perched like a
cat.  My mother is highly religeous, and actually prayed for her eyes to heal.
It was so gradual, that we scarcely remembered her eyes, the way they were.
Only by looking at old photo's could we see her old so- called BLEMISH.
	I personally had very little use for dogs, but Maggie has changed my
entire point of view.  I actually hate to leave her when I go on vacations.

Thanks for your web site,
                                        Bennie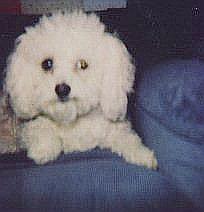 ---
Do you really know how many tissuepapers
a package of Kleenex from Kimberly-Clark contains??

Ask us! We have checked it out thoroughly!!!

(And went tired too!)
---